BLOG
Eliminating HAIs With Real-Time Location Tracking Technology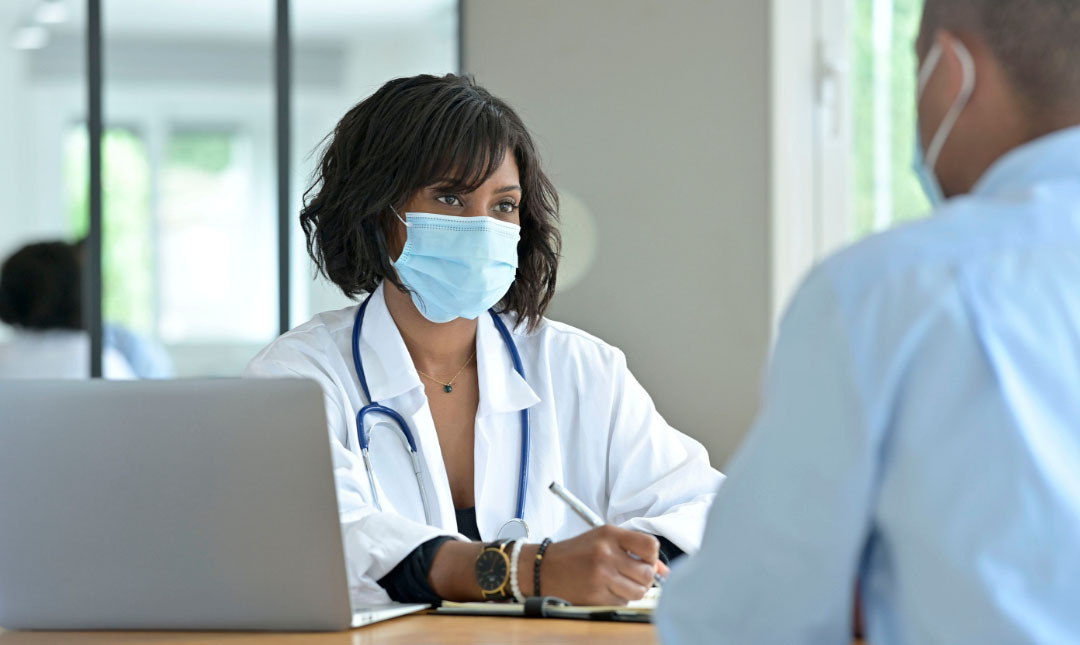 Healthcare-associated infections (HAIs) reach about one in 31 hospital patients every day. They can come with severe consequences like serious illness or death while increasing costs to the patient and the healthcare system. Eliminating HAIs is a complex task and calls for a multifactored approach to education, sanitation, compliance, and other elements of infection control.
Real-time location system (RTLS) solutions have emerged as affordable, effective assets for reducing HAIs and providing insights into hospital operations. Let's explore how to prevent healthcare-associated infections and how RTLS can help.

What Are the Main Types of HAIs?
A healthcare-acquired infection is one a patient develops during their medical treatment. HAIs usually come from insufficient hygiene practices that allow pathogens like bacteria, fungi, and viruses to infect the patient. They can happen in hospitals, ambulatory surgical centers, long-term care facilities, and other healthcare facilities. When HAIs occur in a hospital, they may fall into the subcategory of hospital-acquired infections.
Several types of healthcare-associated infections exist, mainly categorized by where the pathogen enters the body:
Central line-associated bloodstream infections (CLABSIs): A CLABSI occurs when pathogens enter the patient's bloodstream through a central line. Central lines are more likely to cause serious infections than intravenous lines since they access a major vein and can remain in place for weeks or months. Hospitals often use them in intensive care units with high-risk patients. Any interactions with the central line must follow strict hygiene and sterilization protocols to avoid CLABSIs.
Catheter-associated urinary tract infections (CAUTIs): UTIs are the most common type of HAI, with about 75% of hospital-acquired UTIs associated with urinary catheters.
Surgical site infections (SSIs): These infections occur in a part of the body that recently underwent a surgical procedure. They may be superficial, such as those involving tissue under the skin. Other SSIs may be more serious, involving implanted materials or organs.
Ventilator-associated pneumonia (VAP): Pneumonia, an infection in the lungs, can develop in a person on a ventilator when pathogens enter the patient through the ventilator tube.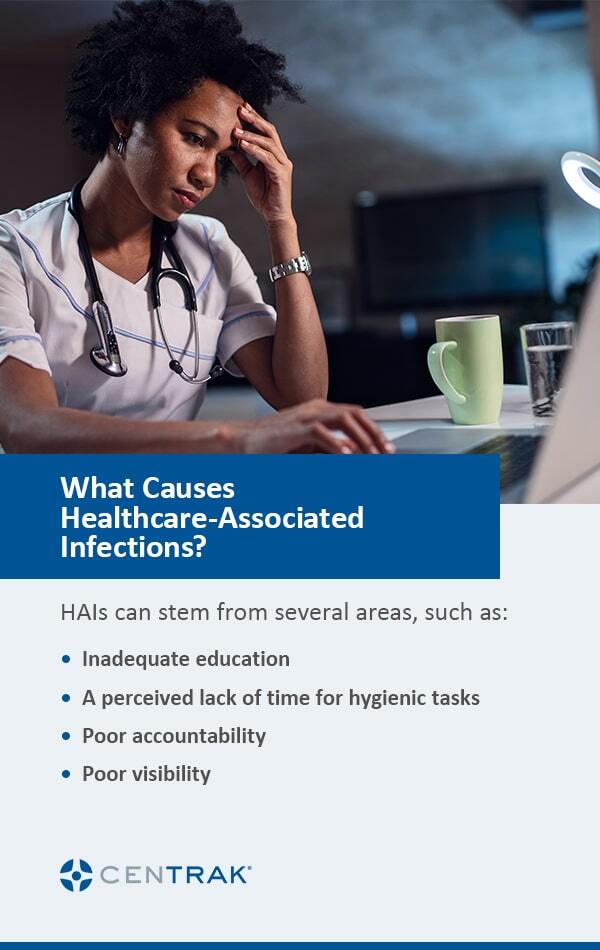 What Causes Healthcare-Associated Infections?
HAIs can stem from several areas, such as:
Inadequate education: Workers need to understand safety and hygiene protocols as well as the severity of HAIs and how they appear.
A perceived lack of time for hygienic tasks: Many workers in healthcare settings already feel rushed. They might not think they have the time to wash their hands or conduct other hygiene requirements.
Accountability: Compliance and reporting help ensure that a hospital meets hygiene requirements. Measuring your facility's HAI prevention practices on a department, role, and individual level can help to create a sense of accountability that promotes safe practices.
Poor visibility: You need to know where HAIs are coming from within your facility to take action to limit them. Good visibility through contact tracing and tracking shared equipment can help better identify HAI issues.

How to Prevent HAIs in Your Hospital
Preventing healthcare-associated infections in a hospital calls for a comprehensive approach. Many strategies can benefit from RTLS technology.
1. Improve Hand Hygiene
Hand hygiene is vital in reducing HAIs and preventing antimicrobial resistance, yet many facilities still use insufficient or inefficient methods of assessing compliance. An RTLS is an innovative, automatic, and cost-effective solution that can decrease the burden of HAIs and other infections.
An RTLS can demonstrate things like:
Whether a healthcare worker washed their hands upon entering a room.
The time a healthcare worker interacted with a patient or equipment.
If the healthcare worker washed their hands after the interaction and before moving to the next patient room.
Accurate compliance rates report the number of hand-washing events and the number of opportunities in which hand-washing should have occurred. With these measurements, hospitals can audit their hand-washing processes, reduce costs, improve patient outcomes, and minimize the spread of unnecessary infections.
Take St. Joseph Mercy Oakland as an example. This 443-bed comprehensive community teaching hospital implemented an RTLS system and saw a 300% improvement in hand-hygiene compliance. Its HAI rate fell to zero in the pilot's first quarter, cementing nurse buy-in for the project. While this use case addresses patient-provider contact tracing, you'll need other prevention strategies for areas like patient-equipment and patient-visitor contact.
2. Infection Control Management
Proper decontamination can keep unwanted bacteria growth from organic matter or bioburden at bay. These decontamination procedures are multi-step processes that involve cleaning, high-level disinfection, rinsing, and drying. If any of these steps fail, the risk of transmitting an infection from one patient to another will increase.
An infection control plan ensures a fast, effective response to potentially infectious diseases. It requires real-time visibility and data on how patients, staff, and medical equipment interact. With this information, facilities can better manage infections and prevent serious outbreaks of infectious diseases. RTLS provides an efficient way to monitor these occurrences in real-time.
Clinical-grade RTLS technology even offers the precision and rapid update speeds you need for room-, bed-, bay-, and shelf-level tracking. An RTLS doesn't require a clear line of sight like some monitoring solutions and is completely waterproof. These designs allow an RTLS to track storage, usage, and cleaning lifecycles for devices like surgical trays and equipment.
3. Medical Scope Lifecycle Management
Medical scope cleaning is an essential part of infection control management. Scopes must enter the reprocessing cycle within one hour of use. If reprocessing doesn't occur promptly, foreign matter can set and harden, increasing the chances that cleaning won't completely remove it, contributing to HAIs in the next patient.
Active RTLS can provide alerts to:
Remind team members to place used scopes into a soiled area for fast reprocessing and proper disinfection.
Signal when a scope remains in the soiled area for too long according to the facility's protocol.
Ensure that scopes only stay in storage for three to 12 days.
An RTLS can maximize clinical workflow and reduce unnecessary reprocessing by prioritizing certain devices. Asset tags can withstand high-pressure washing and harsh disinfection chemicals, making them ideal for sanitation-heavy hospital environments.

Reduce Infection Spread With CenTrak's Solutions
The prevention of HAIs can be complex due to the sheer number of contact points between patients, staff, equipment, and visitors. An RTLS provides data and visibility into these interactions, helping hospitals reduce their HAIs and boost compliance. It also offers operational benefits like reducing damage from overprocessing equipment or eliminating the time-consuming task of tracking down staff or tools.
CenTrak is a comprehensive location services provider, leveraging secure Internet of Things (IoT) systems and smart implementation to transform patient care. With everything from badges to environmental monitoring, CenTrak's experienced team can help facilities reduce HAIs and meet other goals. Request your demo today to see CenTrak in action, or contact us with any questions.