BLOG
Hope for the Best, but Prepare for the Worst
Keep your critical workflows operational with CenTrak's Disaster Recovery Solution.
"Hope for the best but prepare for the worst" is a well-known phrase that many people live by. The motto is especially true for those working in a healthcare setting. Not only do clinical staff need to be mentally and physically prepared for a variety of situations when caring for patients, but administration needs to be prepared for a slew of different scenarios when running their facility. Ensuring the facility can operate as normal during scheduled and unscheduled downtimes is one of the main priorities. Recent events like Hurricane Ida have proven that we may not always be as prepared as we think, and when dealing with the lives of the sick and vulnerable, that is a risk that cannot be taken.
Louisiana was hit especially hard during Hurricane Ida and majority of the state was out of power for two weeks and counting. According to Data Center Frontier, "leading data center service providers in Louisiana continued operating, relying on backup generators to ride out widespread utility outages. The category 4 hurricane presents a more daunting challenge for companies with on-premise data centers in New Orleans, which could be without power for weeks following the "catastrophic failure" of the primary electric transmission towers serving the city."
Another source, Data Center Dynamics, stated that "Hurricane Ida has caused widespread mobile and fiber disruptions across Louisiana, taking out much of AT&T and T-Mobile's services."
As you can imagine, when data centers and major providers like AT&T and T-Mobile are down, it has rippling effects. We can only assume that hospitals in the region were impacted by the downed services.
In order to help healthcare facilities prepare for the unknown, CenTrak's Disaster Recovery (DR) solution was developed to proactively ensure the continuation of customer location services and environmental monitoring systems in the case of natural or human-induced disasters that impact CenTrak systems. Disaster Recovery is part of CenTrak's suite of Business Continuity Solutions which helps to minimize data loss and maintain system functionality in the event that connection to the production server is lost.
Included with the DR solution are a set of standard operating procedures (SOPs) and tools that support the recovery of CenTrak's Connect Core™ server after suffering irrecoverable damage due to natural disasters, long-term power, or network outages, and cyber-attacks or viruses. This solution also supports the automatic reconfiguration of CenTrak's Star Network once the disaster recovery server is brought online.
Crucial use cases like staff duress, environmental monitoring, and patient locating have become increasingly important over the years and enable staff to create a safe and efficient healthcare environment. When a devastating, unpreventable disaster like Hurricane Ida occurs, hospitals need to ensure that they can function at the status quo and continue to focus their efforts on patient care. In a critical time like a hurricane, tornado or flood, losing visibility into these systems could lead to increased safety risks and reverting back to inefficient manual processes. Arguably, these are the moments real-time location and automated environmental monitoring systems are needed most.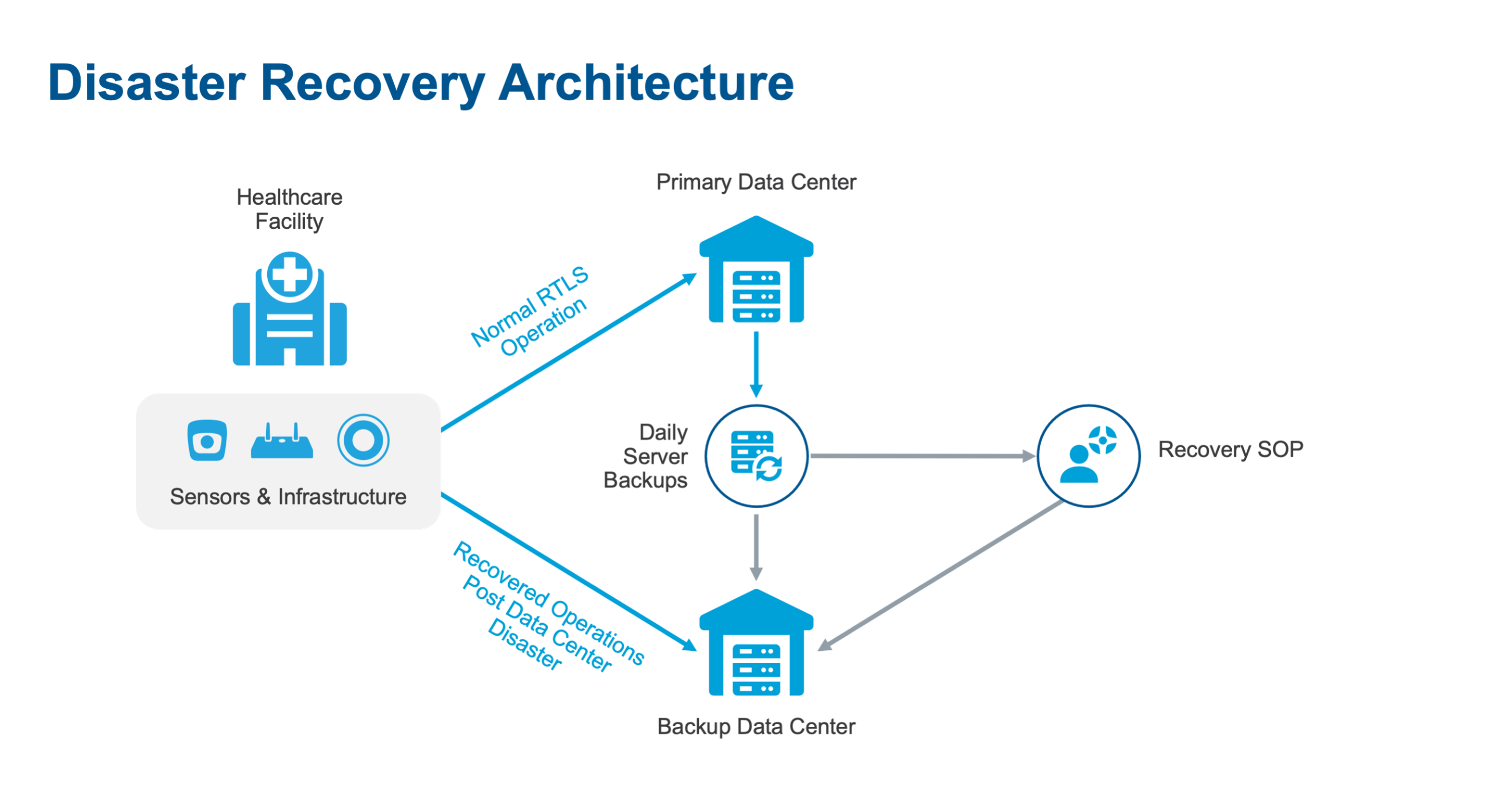 CenTrak's DR solution consists of a Production Core Server and Disaster Recovery Core Server located in separate physical locations. If your Core Production Server is lost, CenTrak provides a standardized process to manually restore your Core server environment onto a new server quickly. The solution also includes setup, services, and functionality, beyond traditional server backup routines, which is required for the timely and complete recovery of the CenTrak system.
The DR solution is predictable, requires minimal overhead, and is a low investment for the peace of mind it provides. Optional services for yearly SOP review and mock recovery testing are also available to confirm that the DR solution is fully operational before disaster strikes.
For other kinds of disasters, like server issues or outages, CenTrak offers High Availability (HA), which is also a part of the Business Continuity Solution. HA automatically monitors the health of the production Core server and enables synchronization to the always-on backup Core server with automated failover and a robust failback procedure. With CenTrak's HA solution, there is minimal to no data loss in the event of any server, software, or network failure and business can carry on as usual. In unpredictable, challenging situations, rest assured that your RTLS will function as usual with the intent to protect patients and staff.