BLOG
How EMR and RTLS Impact Patient Flow

Patient flow has a direct impact on patient satisfaction and facility success. An efficient clinical workflow can help providers give more personalized and attentive care. The right approach can reduce wait times, lower costs, and enhance patient safety.
One way to improve patient flow is by integrating the data with electronic medical records (EMRs) and real-time location systems (RTLS). These digital solutions allow you to view patient data such as history, medications, and current location instantaneously within one application. EMRs integrated with an RTLS can improve communication between providers, take personalized notes on patients, and enhance operations and efficiencies.
Read on to learn more about the benefits of RTLS for patient flow and how CenTrak can help.
Challenges Facing Patient Flow

An efficient patient flow is essential for a successful healthcare practice. From check-in to check-out, patients should move through a facility's care process in a timely manner. That way, providers can meet with all scheduled patients and give sufficient care.
However, hospitals and outpatient clinics can face challenges when optimizing their patient workflows. The COVID-19 pandemic has caused an increase in hospitalizations, combined with a nursing shortage due to increased violence and burnout. This has led to a higher patient ratio with stressed staff and puts an increased strain on clinical operations. Here are a few other patient flow challenges hospitals are facing as they fully reopen for elective surgeries and routine visits:
Overcrowding: If too many patients seek care at once, your facility might become overcrowded. In response, patients typically have long wait times, and providers might feel rushed to catch up, reducing the length of patient-provider interactions. It also causes delays during the check-in and discharge processes. Overcrowding is a particular concern for emergency rooms, where patients need immediate care.
Room and equipment utilization: Facilities might not fully optimize their room or equipment use. Underutilizing available resources can cause delays patient care, loss of potential revenue, and slow the entire facility.
Understaffing: Staffing shortages create a multitude of problems for healthcare facilities. Without sufficient staff, you'll have a hard time moving patients through your facility at the right pace. From check-in procedures to room turnover services in preparation for the next patient, healthcare support staff in addition to clinical resources are critical to an effective and efficient coordination of care.
Communication delays: Another significant issue for patient flow is communication delays. As patients move between rooms, their status should update in real-time to alert staff of room and equipment availability. For example, a patient can move from a pre-operation preparation room into surgery. Without the right tools, providers must manually update patient statuses. Manual entries can cause delays, impacting the overall patient journey.
How RTLS and EMR Integrations Improve Patient Care
A crucial system for efficient patient flow processes is RTLS, which often includes a comprehensive EMR integration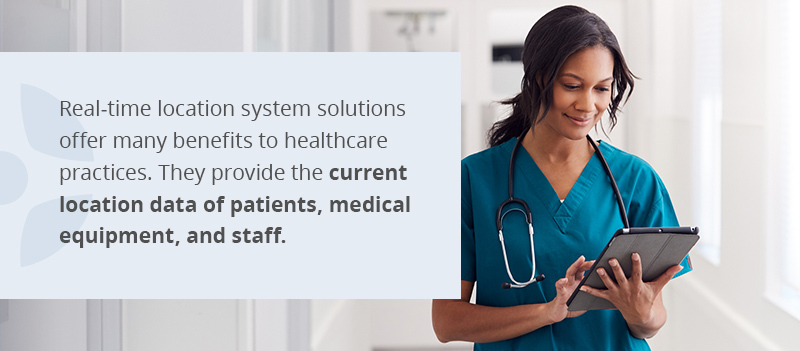 An RTLS and EMR integration connects the patient's record to their RTLS wearable device. This eliminates any duplicate entry of patient data including demographics, status, and care milestones. When patient information is added or updated, it is automatically pushed to both the EMR and the RTLS platform. When a healthcare provider checks the patient record, they can view other useful information provided by the RTLS such as the current location of patient, medical equipment in use by the patient, and all patient-provider interactions.
RTLS solutions can also feature components like:
Software tools: You can access digital dashboards that reflect real-time patient locations, equipment statuses, and more. In addition, you can view historical records and use them to analyze workflow efficiency.
Personalized insights: RTLS systems provide data-driven insights into your workflows. The systems can offer evidence-based recommendations for workflow enhancement.
Benefits of Integrating Patient Flow Data and EMR With RTLS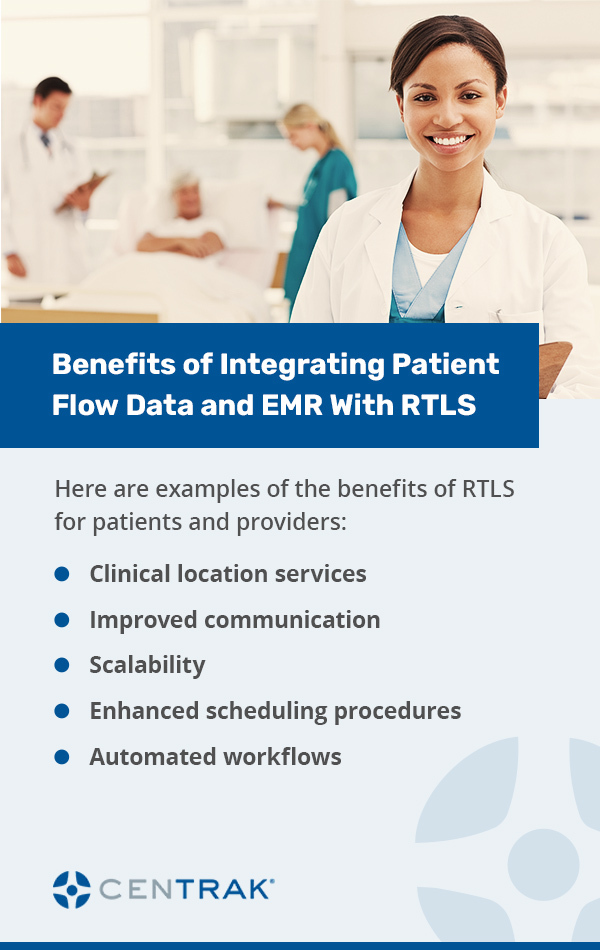 By combining patient flow data with EMR software and RTLS, you can create a comprehensive workflow solution. The software integration can enhance your patient flow approach.
Here are examples of the benefits of RTLS for patients and providers:
Clinical location services: Real-time location systems give automatic updates on patients, staff members, and equipment within your facility. The technology is built to meet the demands of fast paced healthcare environments. By updating patient, staff, and asset location with precise accuracy, you create a detailed solution that improves efficiency. In turn, you can automate documentation requirements, as well as check-in and discharge processes. Automatic RTLS-based ADT events (admit, discharge, and transfer) also triggers EVS notifications to clean the room/equipment. Streamlining these procedures enhances the coordination of care, allowing you to treat more patients each day.
Improved communication: RTLS enhances communications between patients, family members and facility staff members. Providers can quickly view how many patients are waiting, and for how long – eliminating the need to ask where their patients are in the care process or wait for status updates to be manually entered into the system. RTLS also allows care providers and approved family members to receive automatic care updates in areas like a surgery center. As patients are moved from pre-op, all the way through to post-op, everyone is aware of current patient status and care progression without waiting for a phone call from busy staff members.
Scalability: You can scale RTLS to meet specific facility needs and preferences. As new technology becomes available or as your facility recognizes the ROI provided by RTLS, you can easily deploy new solutions to enhance various departments. For instance, you could implement a nurse call automation application for an in-patient unit, infant protection on your labor and delivery floor, workflow solutions, staff duress, and asset tracking in your emergency department, and more.
Enhanced scheduling procedures: By combining patient EMR and RTLS with patient flow data, you can view insights into start times, procedure lengths, and other details. The customizable reports enable you to view higher patient volume times to help with staffing and appointment scheduling. For example, you might see that an average MRI appointment takes about an hour and adapt future schedules as needed. More accurate schedules help you follow them precisely and make it less likely that you'll go over or under time estimates.
Ensures all billable clinical activity is documented: Patients may see multiple professionals or require the use of multiple pieces of equipment during their time at a hospital or outpatient clinic. Real-time data makes patient billing information easily accessible by each necessary staff member.
Overall, an EMR, RTLS, and patient flow combination can enhance the overall patient experience and improve staff satisfaction.

Use CenTrak Workflow Solutions to Optimize Patient Flow
Combining real-time staff and patient workflow data with your EMR process gives your facility actionable insights to empower process improvements that enhance daily operations and increase patient satisfaction.
At CenTrak, we understand the importance of a safe and efficient healthcare environment. We provide a range of EMR-integrated solutions that can enhance your patient flows. Our end-to-end software uses RTLS to deliver real-time visibility, allowing you to see patient statuses at every point of their experience. For example, patient phase of care milestones can be automatically updated with time stamps based on their movements. And, you can easily integrate RTLS CenTrak solutions with new and existing Healthcare IT applications, creating a customized solution for your facility.
Our clinical workflow software includes:
Self-check-in kiosks: Streamline your check-in procedures with our self-service kiosks. Patients can sign in by themselves, reducing wait times and crowded lines at your facility's front entrance.
Patient status viewing boards: With this feature, you can transform HDMI monitors into display screens that detail estimated wait times and HIPAA-compliant patient statuses.
Automatic text messaging: Our automatic texts inform you of patient statuses, treatment progression, and other important provider messages.
Our patient flow tracker helps you view patient status throughout patient visits. In turn, you can reduce bottlenecks, attend to new patients and improve your overall workflow.
To get started with CenTrak, request a demo today.