BLOG
CenTrak Unveils New Branding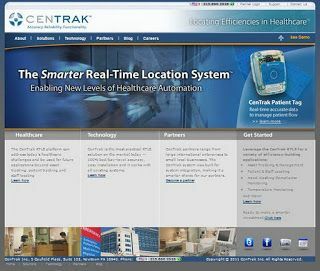 Adam Peck, Director of Marketing
The new and improved centrak.com
New branding more accurately reflects the changing RTLS environment as well as CenTrak's positioning, personality and mission within it.
CenTrak is pleased to unveil its new brand positioning -- The Smarter Real-Time Location System. The new messaging better captures all of the inherent advantages of the CenTrak RTLS –
Industry-Leading accuracy, Performance and Battery Life
Open Platform to Support Multiple Applications
Easy Installation and Maintenance
The new branding has been executed in all key foundational elements including our website -- www.centrak.com
"The new brand more closely captures CenTrak's personality, commitment to quality and performance -- both being second-to-none. It positions us for continued growth and audience mindshare," said Dr. Ari Naim, CEO and Co-founder of CenTrak.
Adam Peck, Director of Marketing, who started at CenTrak in May 2011, drove the strategy for the new brand look and feel. "The new brand design more clearly communicates the significant advantages and unique attributes inherent in the CenTrak infrastructure vital to growth of our industry. My first priority has been to establish a means to help expand the healthcare industry's understanding of the multitude of uses for real-time locating while demonstrating how CenTrak through unparalleled innovation, commitment to product quality and performance is enabling them."
To learn how to make a smarter investment at your healthcare organization, please visit www.centrak.com