BLOG
Slowing Down Superbugs in Healthcare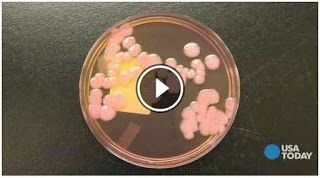 Adam Peck, Director of Marketing
Video from USA Today
A recent news story from USA Today indicated that the healthcare industry faces a daunting challenge in the fight against CRE bacteria. "CRE bacteria are showing up in hospitals and other health care facilities across the country and there is virtually nothing to stop these 'superbugs' at this point." The article indicated that "CDC guidance for controlling CRE rests on traditional
infection control strategy
: rigorous hand cleaning by staff and visitors; isolating infected patients and requiring gowns and gloves for anyone contacting them; cutting antibiotic use to slow the development of resistant bacteria; and limiting use of invasive medical devices, such as catheters, that give bacteria a path into the body." The full article may be viewed here:
Deadly 'superbugs' invade U.S. health care facilities
Now how exactly can the healthcare industry help to enforce rigorous hand cleaning by staff and visitors? One idea would be to deploy a proven hand hygiene compliance solution. There are very few systems that can effectively change hand washing behavior (and sustain it). There is a hand hygiene compliance system that utilizes the world's most accurate and reliable real-time location system: CenTrak Hand Hygiene Compliance System. This not only provides a means to slow down the spread of healthcare acquired infections (HAIs), but the same system infrastructure (and investment) may be leveraged for many other critical use cases to elevate patient care and safety.