BLOG
Workshop Presents Healthcare Technologies to Improve Workflow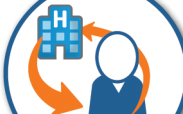 Josette Weinstein, Marketing Coordinator
If you want the opportunity to expand your knowledge on the future of healthcare, the Essentials of Auto-ID, RFID, RTLS, and Wireless Technologies in Healthcare workshop will be held in Chicago on Sunday, April 12th. This workshop will present case studies on Auto-ID, radio-frequency identification (RFID), real-time location systems (RTLS), and wireless technologies along with how results are being achieved with these technologies in worldwide institutions. Learn how these technologies will change the way healthcare facilities are changing staff, processes and technology, as well as their efforts on patient care and safety.
At the Enterprise Real-Time Visibility Panel, clinical and IT leaders will be presenting about their experience using Enterprise-Class Clinical-Grade Visibility tracking technology to improve healthcare delivery, patient care, and operational efficiency. You can learn how to improve asset management, workflow automation, and temperature monitoring. Among these panelists are Scott Leddy, CMIO at Cook Children's Health Care Systems; Donna Baer, Director of Strategic Projects and IT at Mount Sinai Medical Center; and Mark Rheault, Director of Enterprise Visibility at Wake Forest Baptist Medical Center.
Using an Environmental and Temperature Monitoring Solution
The Panel will discuss using an Environmental and Temperature Monitoring solution that enables facilities to quickly and accurately monitor temperature for various equipment, such as refrigerators, freezers, walk-in hot/cold rooms, incubators, air screens, and cryo LN tanks. The discussion will highlight how ambient room temperature and humidity monitoring can be implemented to improve point-of-care testing areas, storage cabinets, and operating rooms. With the implementation of these systems, facilities could see benefits in multiple departments including Perioperative Services, Labs, Dietary, Pharmacy, Nursing, Housekeeping, Biomedical, and Facilities Engineering.
Improving Patient Experience with RTLS Technologies
The Panel will touch on how to optimize and automate workflow in order to maximize and improve the time care-providers spend with patients. The panel will emphasize that focusing on the patient improves the overall experience and the quality of patient outcomes. By employing RTLS, facilities could successfully reduce the time and effort staff members consume interacting with the systems and redirect their time to patent needs.